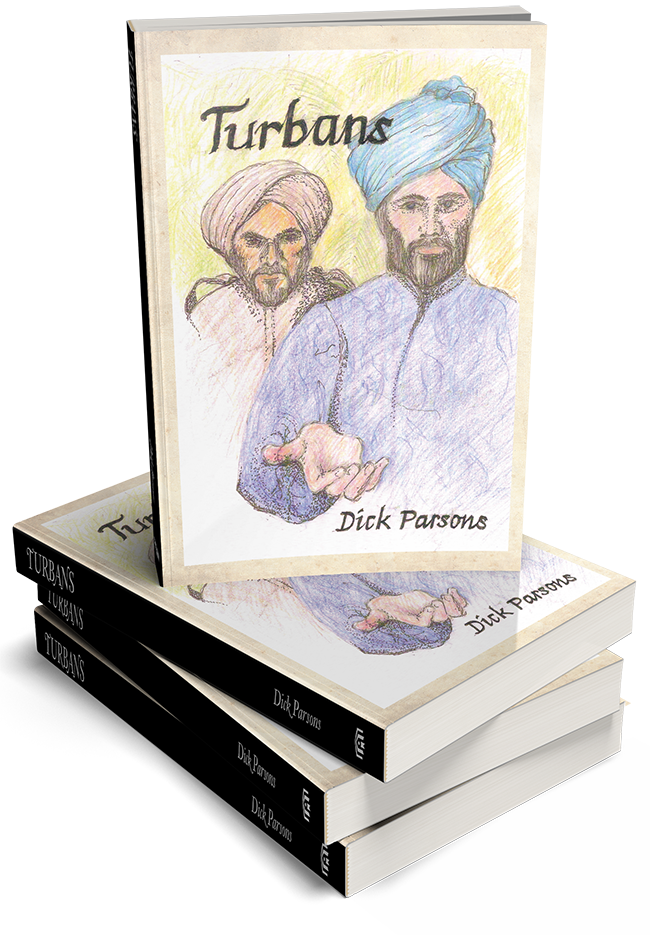 TURBANS
In Turbans, the new novel by Dick Parsons, a woman struggles to deal with the tragic losses of three men in her life: her betrothed, a Sikh and her illegitimate son.
Join her journey.
---
A Fisher of Slaves: 2nd Edition
Always having wanted to follow in the footsteps of his father killed in 1759 in the Battle of Quiberon Bay, 13-year-old Nathaniel persuades his reluctant mother to allow him to pursue a career at sea, but owing to a foolish misunderstanding, he serves his apprenticeship on a slave-trading ship. Her new-found horror of the slave trade and fears that her innocent son will be corrupted by it fires an unrelenting desire for its abolition. Her son's life in a slaver, the horrors of the trade and her struggles to do "something for those poor creatures" are all beautifully woven in the historical novel, A Fisher of Slaves…
---
New Zealand A Personal Discovery
Two hundred and twenty years after Captain Cook's first tour of New Zealand, Dick Parsons takes us on a more comfortable voyage of discovery round the north and south islands. He gives us a fascinating insight into the life—human, animal and botanical—of this green and majestic land on the other side of the world.
---
A Family Divided
The Versailles Treaty which brought peace after the Great War (1914-18) was viewed by Adolf Hitler as humiliating and unjust, leading to his determination to make Germany great again and the Reich judenfrie (rid of the Jews). When he becomes Führer in 1934, his policies affect the families of two German brothers in evermore contrasting ways. Klaus the younger, is married to a Jew and their children a boy and a girl, are therefore Jewish. His brother Wolfgang's wife like him, is an Aryan and to Hitler and the Nazis, their two blond blue-eyed sons are archetypal German boys to be nurtured by the Hitler Youth to become enthusiastic and loyal Nazis.
Meanwhile the Jews and Klaus' family suffer increasing persecution, with the threat of imprisonment in concentration camps and extermination at the hands of the S.S.
The two branches of the family become separated by Hitler's anti-Semitism and the Uncles, Aunts and the four cousins suffer contrasting fates as the events of WW2 unfold.
Much research by author Dick Parsons has enabled him to portray this terrible period in European history through the lives of this family of two brothers.